Jimmy Rees 'Meanwhile in Australia' Tour 2022
Jimmy Rees 'Meanwhile in Australia' Tour 2022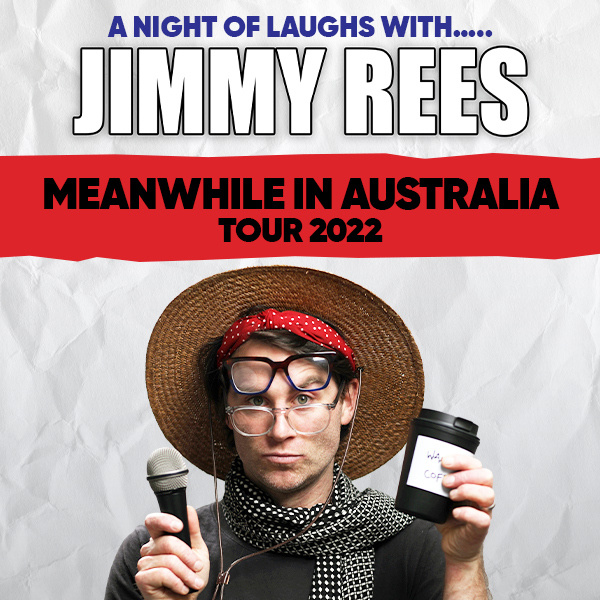 Image for Jimmy Rees 'Meanwhile in Australia' Tour 2022
Event Details
Date: Sunday, 27th Mar 2022 — Monday, 28th Mar 2022
Social media sensation Jimmy Rees is leaving the comforts, or is that confines, of COVID life at home and hitting the stage with his first ever live comedy show!
Further Information
Jimmy and his characters that have basically kept us going throughout the pandemic, will travel around the country with their special brand of #lol.
A note from Jimmy:
Dear Australia,
What's doing in March/April besides getting a booster? I'm sick of talking to myself on camera so I'm coming to a stage near you! Don't be like Jason, grab a chammmpaaaggnnee, darling and together we can all be the Guy Who Decides. That's wright, I'm doing a comedy show and it's called 'Meanwhile in Australia'. Featuring the Guy Who Decides, The Ladies of Brighton, Meanwhile in Australia LIVE! (how am I gonna do that?!), a magpie, an earthqueske, maybe the poop inspector...CORNN!!
Over the past couple of years, you might have seen many random videos about many random things. This new show will be just as random.Here's a random quote from a totally random person about what to expect...
Jason: I had a really good time, Jimmy was...
The Guy: SHUT UP JASON!!
Wow that was weird, anyway get your tickets now!!
Love, Jimmy
Funnyman Jimmy Rees has spent more than a decade as a household name, having entertained the masses as a beloved TV & radio personability, comedian, performer and now a viral internet success. Bringing his daily antics world wide web, Jimmy's now-iconic kits transcend the experiencs of parenthood and have becore a source of hilarity for people of all ages - thanks to his refreshing authencity and relatability - reaching a monthly digital audience of more than 9 million people.